What is the Stylo Knowledge Center?
Stylo's Knowledge Center is a data warehouse of question/answer pairs. In essence, it serves as an automated knowledge engine that actively learns from your public-facing Help Center in Zendesk Guide. It combines those question and answer pairs with manually-entered pairs to feed Stylo AI with logical answers to commonly asked questions.
How does it work?
Automated Knowledge Absorption
The Knowledge Center conducts periodic scans of your public-facing Help Center in Zendesk Guide. These scans take place approximately every 12 hours, ensuring your information remains up-to-date as articles are added to and adjusted in Zendesk Guide. Question/answer pairs can easily be enabled and disabled as needed, and information regarding the source and "last updated" timestamp is available as well.
Brand Separation
The Knowledge Center also categorizes question/answer pairs based on Brand. During automated scans of your Help Center, the system identifies the Brand associated with each article, and organizes the question/answer pairs accordingly (each Brand is given a tab at the top of the page). This intelligent segmentation ensures that Stylo draws from the right knowledge pool when generating responses.
Manual Input for Agility
In addition to automated knowledge extraction from Zendesk Guide, you also have the option to manually input question/answer pairs into the Knowledge Center. This enables you to quickly train Stylo on new information, expanding its capabilities to provide accurate responses to evolving topics and unique customer inquiries.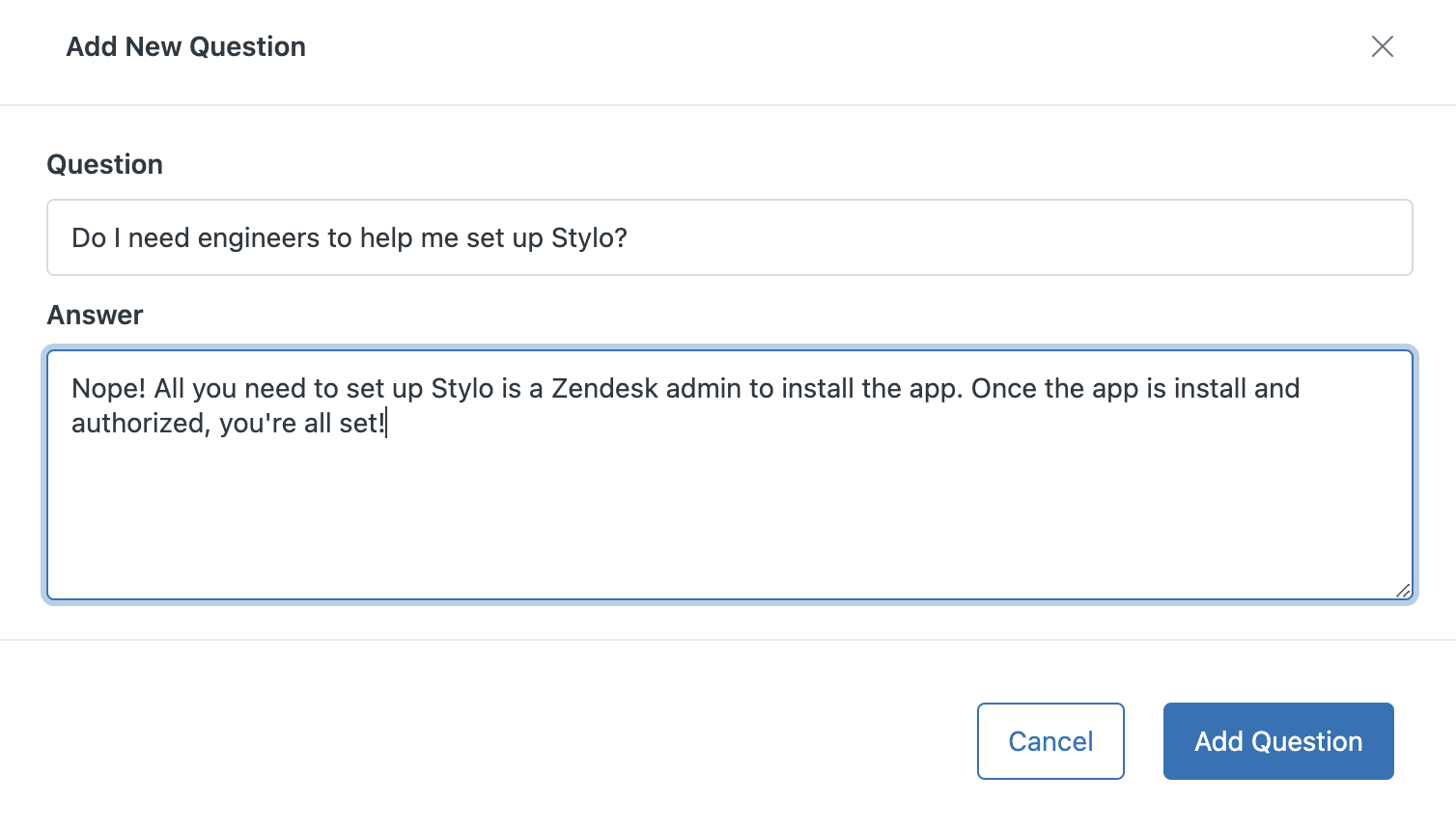 What does it do?
Enhancing Stylo's Responses
The real magic happens when Stylo generates responses. Stylo uses the information in the Knowledge Center to inform and refine the responses it creates. Whether Stylo generates responses completely from scratch, or alongside input provided by a customer support agent, it leverages the question/answer pairs collected by the Knowledge Center. This ensures that every response is not only consistent and high-quality, but also rooted in the most accurate and up-to-date information available.