The Use My Input feature of Stylo Assist is super powerful - merging the knowledge that exists in your head with the power of AI to generate complete, accurate, and personalized responses to tickets in just a few key-strokes.

For example, imagine you have a ticket where the requester asks a series of questions, like:
- how long is your trial for
- and who can help me set it up
- and what can I do to help my neighbor whose dog ran away?
Now the actually important information to share here is:
- 30 days
- Noah in sales
- call animal shelter

But as you know, that's not exactly a great way to speak to customers. We want to be helpful and kind while answering their questions, not robotic and uninterested. There needs to be a bona-fide message around those bits of information, but writing is time-consuming.

In comes Stylo Assist and the Use my Input feature - all I do as the agent is input 30 days - Noah in sales - call animal shelter and click Draft my response, and… voilà!

A thorough, complete answer is crafted for me, and is available to edit if I want to make any changes before replying (check out the gif below to see exactly that in action).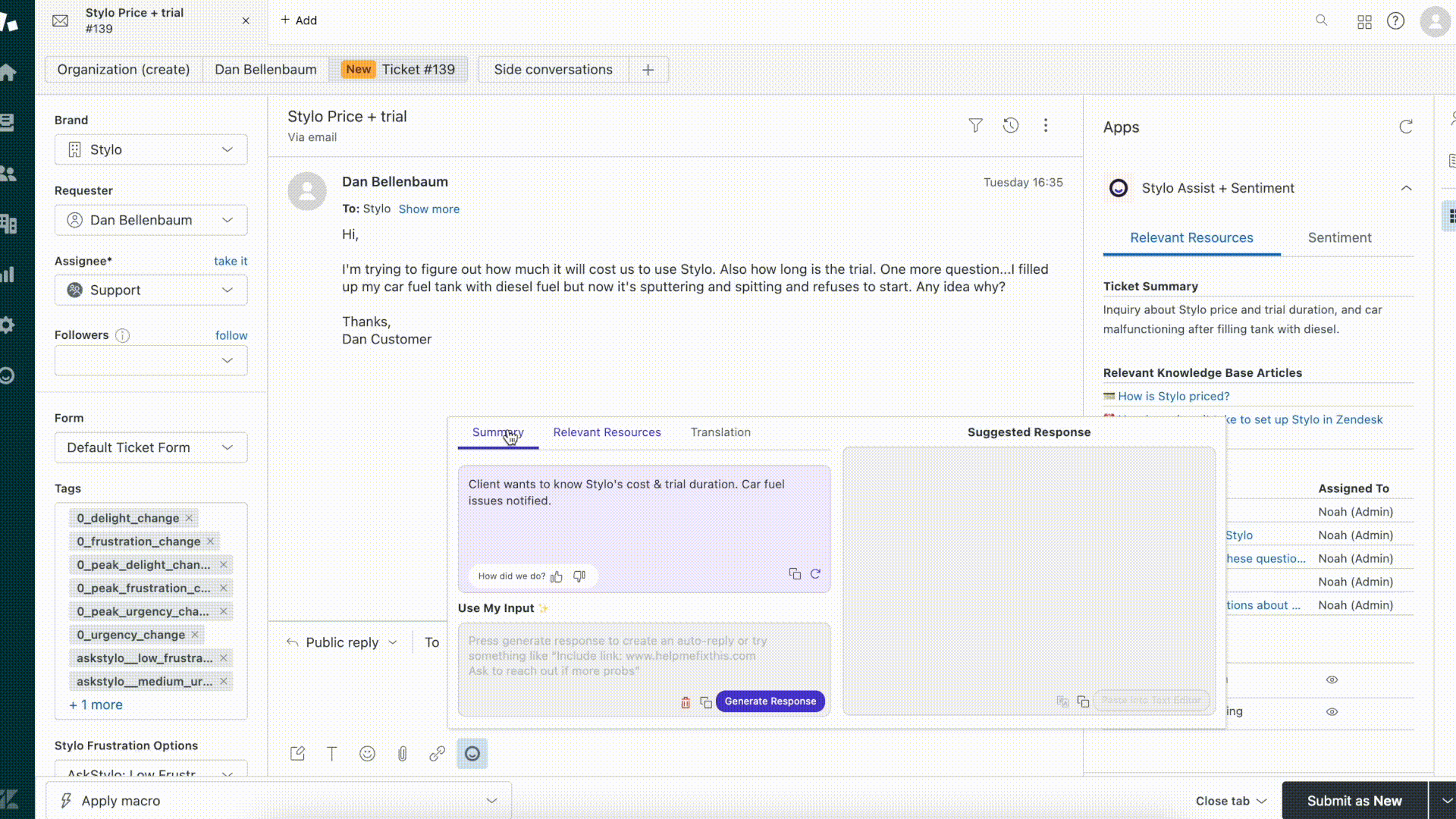 Now that you understand the basics, we can start getting into the really cool stuff.

As I mentioned, if the text generated from your input isn't exactly what you want, you can always edit it by hand or select the regenerate button to get Assist to try again, based on the same input.

Better yet, I could go add to my input and draft a brand new response! For instance, I could ask Assist to make my reply informal if it's someone I've talked to a ton. Or I could ask Assist to make my reply apologetic if the issue at hand is particularly bothersome to the requester.

I could ask Assist to make my reply rhyme if I'm talking to a poet, or make me sound like an old timey prospector if I'm talking to someone who's just invented a time machine.

I could even ask Assist to make my reply in a specific language, although this shouldn't be necessary since Assist will automatically reply in the language used by the requester!

The possibilities here are - you guessed it - endless.

Try it out, and comment on this article if you've come up with a great input that you want to share!